---
Are you
18 or over?
This webpage features artwork and related services which are intended for people of legal age only, there might be sensitive content, proceed with caution!
---
---
SNOFU
Digital Artist, 18+ only
---
On this page you'll find everything you need regarding commissioning custom artwork and contacting me! You can support me by pledging to my Subscribestar.
My content is exclusively intended for people 18+. All characters depicted are of legal age. All situations depicted are consensual. All art depicted is purely fictional. Similarities to real people and IPs are coincidental.
---
If you're interested in commissioning me, simply use the form linked above, and don't forget to look over the terms of service! Follow my socials for more info on when I open slots. Subscribestars get first dibs.
---
---
---
Complex characters and some topics or kinks may be subject to additional cost. The listed prices are a guideline but not the final quote. 13% VAT included in final quote.
---
BOUND FOR GLORY
---
By commissioning me you confirm that you:
Have read the terms & service and agree to them.

Are of legal age (18+, or 21+ in some jurisdictions).

Are okay with your data being handled as necessary to complete your order.
---
Payment wise you are agreeing that:
Payments are accepted via BANKWIRE, SUBSCRIBESTAR, or, if necessary via PP.

You pay the full price, upfront, within 3 days of the invoice being sent (unless discussed otherwise, payment plans available for 250€+ orders). For tax reasons I can not split one invoice between two people.

If you issue a refund after I have started your commission you will receive an appropriate percentage of money back. Refunds are no longer possible after the lineart has been completed. If the commission is cancelled on my behalf you receive a full refund.

Private work/ NDA (non disclosure agreement) is +70% of the quoted price.

Listed prices are base prices and will go up depending on complexity of scene, character, or other factors that might add work time.

All quoted prices include 13% value added tax (VAT) for artwork, 10% for books and prints, and 20% for anything else.

You will let me know if you need a full formal invoice for tax write-offs (should your commission be for your business or similar.)

Commercial work and/or transfer of rights or intellectual property is to be negotiated on a case by case basis.
---
I own the copyright to any piece of art that I do, which means:
I am allowed to print and reproduce my artwork as I see fit (both physically and digitally) If your character is included in physical reproductions you will be asked permission prior.

You are allowed to print copies and such for your personal use but NOT for commercial use. If you wish to commission something for commercial use state it clearly in your initial inquiry.

You are not allowed to alter your commission heavily unless discussed otherwise. Cropping and colour corrections are permitted. If, for example, you would like your commission to be coloured by someone else, please let me know beforehand!

You retain all rights to your character.
---
Before, during and after the commission:
I am allowed to refuse a commission for any reason.

Provide good references and a clear outline (unless you prefer artistic freedom) of what you want. Please try to include the following information in your initial message: Commission tier (sketch, line art, etc.), Character reference(s), Scenario and/or pose description and/or references where possible.

Mistakes in your references are your responsibility.

You will be sent a sketch of the commission, if you want any alterations to your piece you must let me know then, after this you will be sent another sketch to approve changes. If, however, you need additional changes that have not been stated during the first pass you are subject to a fee starting at 3€ depending on the severity.

Once lineart has been completed, alterations are subject to a fee starting at 5€ depending on the severity of the changes.

You are allowed to share the artwork and associated files as you please, as long as the signature is kept intact.

You agree to me taking up to three months to finish your commission if not agreed otherwise.

I can not guarantee to archive the files of your commission, should you need them again past the initial delivery.

All commissions are somewhat experimental, if there is a specific style of mine you desire please let me know, preferably show me which one!
---
Will draw
Anything to my ability. NSFW and fetish friendly, just ask me! Your inquiry is kept confidential in any case.
Won't draw- I will ignore any commission request including these topics:
Content which is deemed illegal where either artist or client is based.

Hate speech and symbols banned by law.

Depictions of real, dead or alive, figures, public or otherwise.

Sexual depictions of underage characters, non-sentient feral characters or humans.
---
Last ToS update 20.12.2022 / Updated commercial options.
---
My content is exclusively intended for people 18+. All characters depicted are of legal age. All situations depicted are consensual. All art depicted is purely fictional. Similarities to real people and IPs are coincidental.
---
---
SNOFU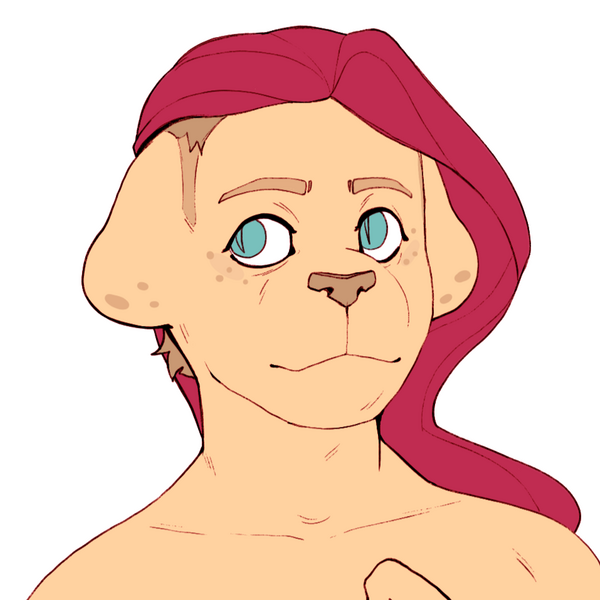 ---
| | | | |
| --- | --- | --- | --- |
| Species: | Atypical Feline | Height: | 160cm/5'4" |
| Sex: | Andromorph | Weight: | 50kg/110lbs |
| Sexuality: | No preference | Age: | Adult |
---
---
HERO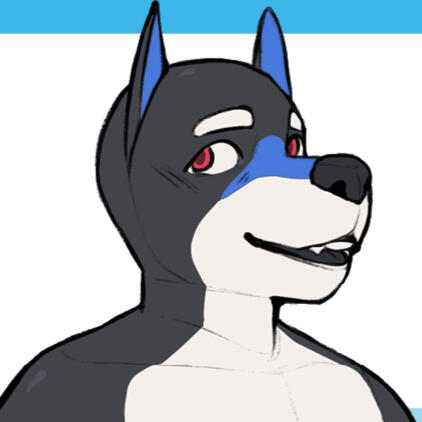 ---
| | | | |
| --- | --- | --- | --- |
| Species: | Canine Drone | Height: | 155cm/5'1" |
| Sex: | Null | Weight: | 40kg/88lbs |
| Sexuality: | Aromantic | Age: | Adult |
---
Details

-Hero is a sentient, canine, neoprene drone. He works as a caretaker and is well fitted for the job due to his calm and loving nature, inability to speak or make noises. Hand and feet soles covered in non slip bumps to ensure maximum stability during working and everyday tasks. - An endo-skeleton made from glass fibre makes him relatively durable. Tubes throughout his body pump isolated, cool liquid which is blue in colour around his body using a fan powered liquid pump. Smaller tubes closer to the surface are covered in artificial nerves enabling him to feel touch, as well as them being coated with heat to electricity converters, leading the electricity into the power input in his heart pump. His blue blood is entirely isolated by the tubes it's flowing through so normally there is no need for heat regulation, however should the need arise there is an emergency cooling system located in his lower abdomen. - Hero has no need for food but he will need to warm up every once in a while. He likes using hot water bottles as "snack" and enjoys being hugged and sharing sleeping spaces. Winter isn't the best time for him to be outside but he can make it a good while as long as he's properly charged. Summer is basically endless energy for him but due to his skin being neoprene he has to be cautions not to be in direct sunlight for too long, since UV can break down the structure of neoprene and make it brittle. - His face has holes for rods and tubes managing his senses, he has excellent hearing, good eyesight, and an optional sense for taste and smell helping him prepare food and sniff out potential dangers amongst other things during his job. During caretaking shifts he will wear a watch like device on his wrist with programmed voice lines and a text to speech function (rarely used) to communicate or alert patients that are not capable of sign language, are disabled, or simply can not be communicated with in ways other than speech. - The fluttering sound his heart pump makes reminds of a faint purring and is appreciated by patients with anxiety disorders. Main jobs for this drone include cooking meals for inpatients, being an emotional support animal for groups or single people (usually when working with a therapist), cleaning patients (his skin is entirely hydrophobic, Hero himself is easy to clean) and working with sick patients since he can not contract biological diseases. -Sexual Details: No genitals. Butthole which is connected to a tube going all the way up to his mouth. Hero is fully versatile, tops with toys and enjoys bottoming using his hole and mouth. Using lube is advised since he can not self lubricate. He enjoys barebacking since he can not catch diseases and likes watersports because of the warmth. There is a concentration of nerve endings in his crotch amongst other places (ears for example) which enables him to experience something that can only be described as an orgasm. - Hero is aromantic and pansexual.
---
SISTER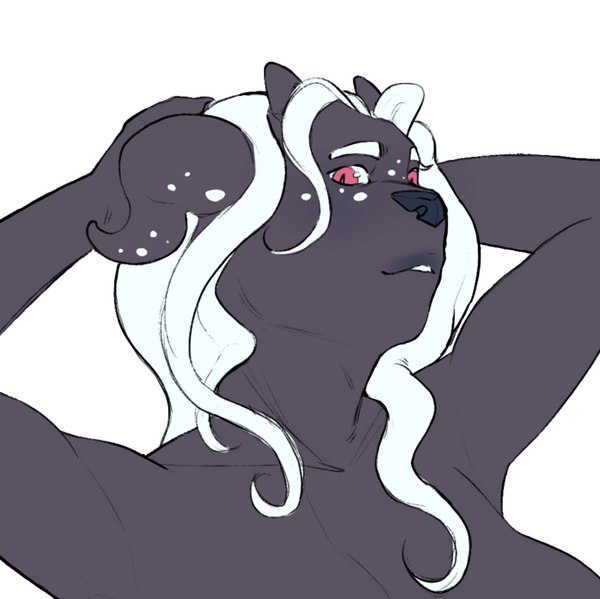 ---
| | | | |
| --- | --- | --- | --- |
| Species: | Atypical Feline | Height: | 200cm/6'5" |
| Sex: | Gynomorph | Weight: | 110kg/242lbs |
| Sexuality: | Dominant | Age: | Adult |
---
Description

One day she was just there, apparently she lives in the outskirts. I don't think she partakes in society much, she's more the hunter-gatherer type. Her language isn't the best and she only speaks the basic one, which is quite rare as nearly all people are fluent in common and alien alike.
-
Sister has little filter, she can be quite rough. I don't mind but I don't think Hero likes her a lot.
-
"Sister" isn't her real name, I'm fairly certain, but your guess is as good as mine.